THE END OF ALL (WAR UNCHECKED)
I play the Ogre in the sun
Battles in the unreal Wastes
Tracks upon the injured Earth
Men lost at bootless, useless tasks
Desperate in their race
To halt the Great Machine
Before it plows their graves
Shells fired true at noon
Scream and then erupt
Melting steel and flesh
Can any still be saved?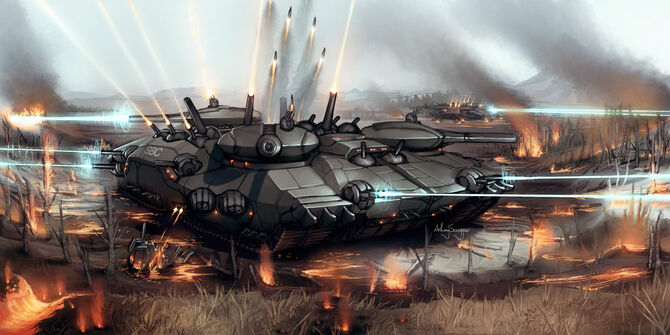 A flash and searing light
Mushroom clouds rise
High in Death –
Men are vaporized, but
Shielded from the shock
The Ogre shakes it off
The Ogre lumbers on,
All else is crushed like dust
Reduced to crumbled rock
In what can men now trust?
In what do they take stock?
Replacements rush the line
Their missiles roar in flight
The battle rages gold and red
Until the fall of night,
The ruins smolder long
The slag it runs like blood
The dark is still and cold
Men buried in the mud
No movement shows on scopes
No sound is heard to churn
The ground no longer shakes
No giant Beast comes forth
There is no steam or quake,
The moon spies no Mighty Monster
Neath the clouds of man-made smoke
As it runs the sky in haste –
It seems as if there's Victory
That doom has been revoked
Yet come the dawn
Come the morning's rise
Men in dread do hear
The distant turning wheel and clank
Of scored and tempered metal
Once more in motion on the Earth,
They feel the tremors, re-sight the Beast
As it lumbers on uncaring
Atomic piles of superheated waste
A mind of carbon frozen cold
An alloyed soul of silicates
That knows no mercy, rest, or wear
That shed no tears for corpses piled
Higher than its mighty head
With its massive maw of cannon red
And unblinking Cyclopean Eye
That watches all and sees all things
Far and wide
Except, of course, for what it does…
An Ogre plays beneath the burning sun
Battles rage in fresh ruined wastes
Tracks marred hard upon the dying Earth
Men lost in their hellish tasks
Desperate in their race
To kill the Great Machine
Before it plows their countless graves
Yet come the dusk before the dawn
Come the night before the fight
The monster knows not, cares not
Asks not, hears not the wounded
Cries and screams of men
For the Ogre has no doubt
It dreams no dream
Except the dream of what it does –
War unchecked, and winning that
The End of All,
Himself as well
To die alone
Beneath a burning sun
Unneeded anymore…
Sometimes at lunch I play Ogre. Against myself.

Ogre is actually based on the old Keith Laumer series Bolo. Some of my favorite sci-fi tales to read when I was a kid. I recommend both the game and the books.

Today I played a particularly superb scenario that I had also written for myself. It was a "Total War Scenario."

By the end of the scenario the human forces had been completely annihilated and the Ogre could not move having also been almost entirely destroyed.

I've decided to call it my War Unchecked Scenario. Or the End-All scenario.

Rarely have I fought or devised a wargames scenario that resulted in such almost perfect annihilation of both sides.

After ruminating on what it implied for a little while I wrote the poem above, The End of All.

I was surprised at how well the poem came out, especially since it was based upon nothing more than a wargames scenario. And it has been very well received and critiqued by my family, friends, and the followers of my poetry and writings. Then again I always try and envision any wargame (or role play game, or real life training scenario) as realistically in my head as possibly in order to execute it properly and to see what real life lessons might be learned.

So this poem will go into my file for Espionage and Military and Survival Poetry. Later I will seek to have it published. You are welcome to make your own comments on it as well.